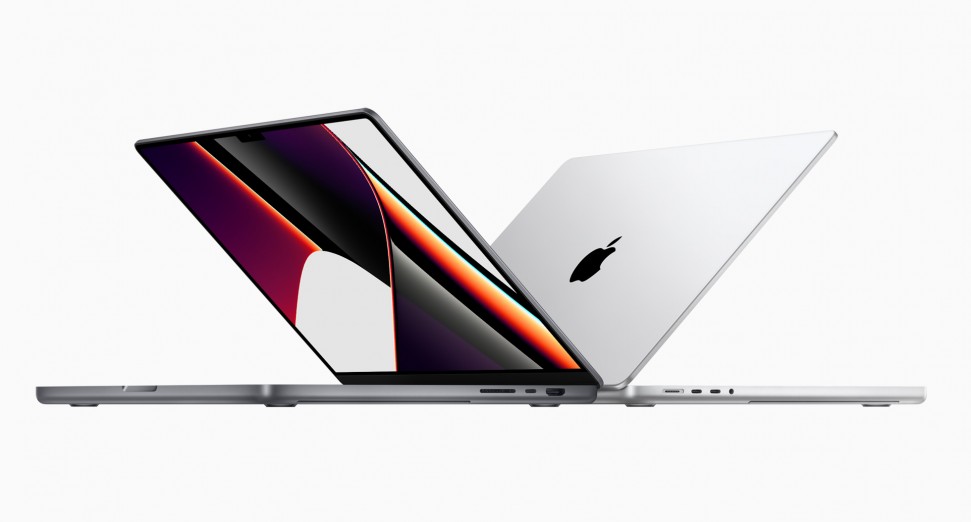 Apple announces newly designed MacBook Pros with M1 Pro and Max chips
Apple has announced a new range of MacBook Pro computers with a focus on high power and features for creative professionals. The laptops come in two sizes – 14-inch and 16-inch – and, to the joy of many music makers, have returned some of the much-missed ports to the computers. MagSafe charging has returned as well as a physical HDMI output and – a heavily requested – SD card slot on the side for expanding storage space and also for transferring media quickly. There are also three Thunderbolt 4/USB-C ports, which can still be used for charging if you've committed to Apple's new standard.
Inside, the machines have upgraded on Apple's highly-praised M1, adding two new options: the M1 Pro and the M1 Max. The Pro can feature up to 10 CPU cores – 3.7x faster than the current Intel quad-core i7 chip – with up to 16 cores of GPU, while the Max can reach up to 32-cores of GPU for intense editing and rendering. For RAM, it's 16GB as standard, upgradable to 32GB.
For musicians and producers, Apple has also upgraded the speaker and mic system, adding newly designed dual woofers for extra bass. There's also now a 'high impedance' headphone output for using pro headphones directly with the laptop, although the spec sheet doesn't reveal how many Ohms 'high impedance' means.
The much-maligned butterfly keyboard is gone and so is the Touch Bar, replaced with physical keys. The screen has also been upgraded, with the 14-inch running at 3024×1964 pixels. For the Zoomers, the camera has been upgraded to 1080p but doesn't offer Apple's Face ID just yet.
Apple claims the battery on the 14 offers 17 hours of video editing battery and 11 hours of web browsing, while the 16 offers 21 hours editing with 14 hours browsing. Internal SSD speed has been upgraded to an impressive 7.4GB/sec.
The 14-inch model starts at £1,899 and the 16 starts at £2,399. Find out more about the new computers on Apple's website.