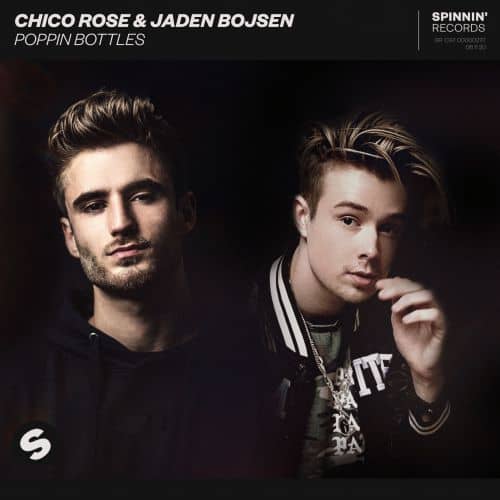 Chico Rose & Jaden Bojsen – Poppin Bottles
Chico Rose continues to build an impressive resume, now teaming up with German DJ/producer Jaden Bojsen for the upwinding new single 'Poppin Bottles'. Already responsible for quite some dancefloor killers on their own account, these hotshots have now taken things further with a whirlwind of vocal excitement, dropped over sturdy beats and deep, gritty basslines. "Never stop fighting for your dreams", is the message here, and the guys do it with a big smile while poppin their bottles.
By the looks of it, these artists seem to be made for each other. In the one corner, Dutch artist Chico Rose, who's been delivering hit tunes as steady as the clock, often teaming up with mentor Afrojack, which reached a climax last year when the guys released 'Sad', a hit record that by now counts over 57 million Spotify streams and over 5,7 million views on YouTube.
In the other corner, Chico's match from Germany: Jaden Bojsen. With a background in US boyband New District he's been releasing solo tunes since then, dropping some serious crowdpleasers, including the breakthrough hit 'The Weekend' and this year's 'Taking Shape' (feat. Willemijn May).
Both have specialized themselves in vocally driven dance music, with strong touches of pop and R&B, while maintaining the excitement of four-to-the-floor kicks and lots of action in the bass section. It's provided their music with a fresh electronic vibe, and 'Poppin Bottles' is no exception – this is what happens when two youngsters from an upcoming new dance generation join forces.
The record quickly builds momentum with heated vocal lines, drenched in effect, enhanced by dark synth chords. When the chorus drops, the vocals, kicks and bassline invite to start jumping, screaming, and, well, pop some bottles. It's a peak time record, that's for sure, exploding with its fierce lyrics and sturdy rhythm – a burst of energy to rediscover how it feels to be on a raving dancefloor. It's exactly what we need these days to get the blood pumping again, ready to rock your private party and set your playlist on fire.
"Don't take life to seriously, have fun, enjoy every little moment and pop some bottles." – Chico Rose
"Chico and I did this track together to send out a message, that no matter what happens, never stop fighting for your dreams. You will always pass failures on the way to success. That's where you get strong and learn the most." – Jaden Bojsen