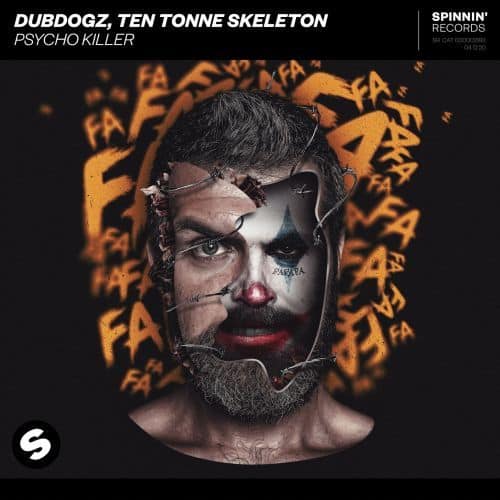 Dubdogz, Ten Tonne Skeleton – 'Psycho Killer'
Brazilian hotshot duo Dubdogz has teamed up with German cover specialists Ten Tonne Skeleton for an exciting rework of Talking Heads pop classic 'Psycho Killer'. The record builds on the original's lively vocal lines while intertwining these with jumpy rhythms and cool Brazilian bass vibes. It's a deep, dark adventure coming your way right now.
Both acts have a taste for revamping classic records into powerful new dance gems. Ten Tonne Skeleton already did so with this year's (debut) singles 'Friday' (a cover of The Cure) and 'Safety Dance' (Men Without Hats).
While the guys from Dubdogz scored huge hits on their own account, as well as with covers and remixes for Bob Sinclar ('World, Hold On'), Stromae ('Alors On Danse') and the huge international hit they released early 2020, the Infinity Ink cover 'Infinity'. It's turned them into the global players they are today, thanks to their unique sound, drenched in brazilian bass and contemporary electronic music.
And now, this auspicious Brazilian-German teamup got its hands on one of the most well known records from the 80's, the Talking Heads song 'Psycho Killer'. Using the vocal lines from the original, the guys from Ten Tonne Skeleton had these recorded again by US based singer-songwriter H. Kenneth, who they had met during a writing session in Nashville.
Once set up, the raw version of the track was sent to the mighty Dubdogz, who finalized the production in their own outstanding way. The guys added their trademark grooves, drops and productional wizardry, nicely combining a supple rhythm with dark undertones. It turned out the perfect counterweight for the timeless vocal lines, now reaching new heights again in a brand new guise.
"We heard the original version from a young age at home, our parents have the album 'Talking Heads: 77′ – the band's first album – on which Psycho Killer was released. Having the opportunity to reinterpret this classic with the guys from Ten Tonne Skeleton and the sensational vocals from H. Kenneth, is a very important achievement and milestone in our career." – Dubdogz
"We had to write a second verse cause there's none in the original. That verse ended up being the only verse in the final version. We are huge Radiohead fans. While reading their biography, we learned that their bandname was a song by a band called Talking Heads, that's how we discovered their music and that's what made us start working on 'Psycho Killer'." – Ten Tonne Skeleton