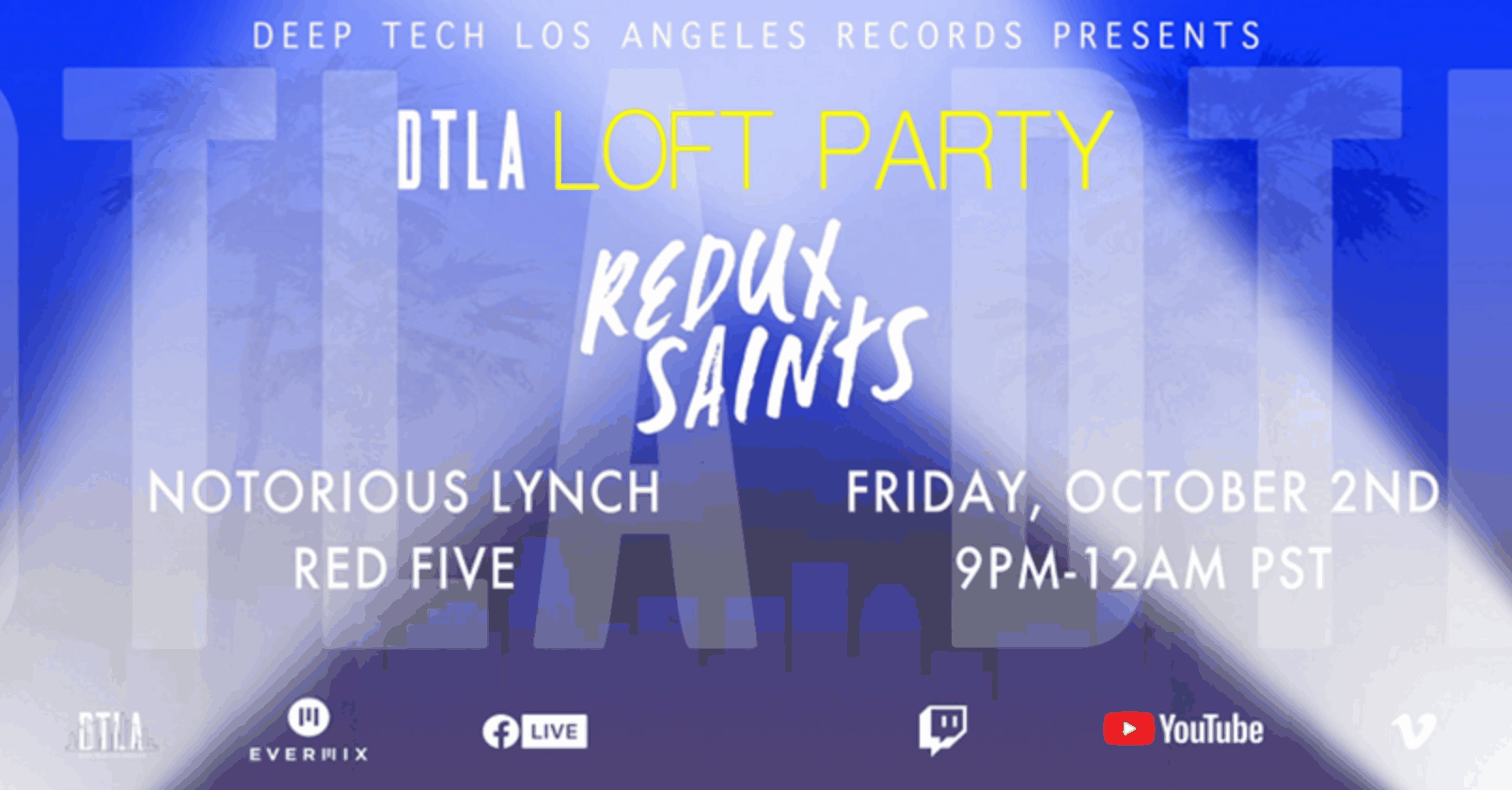 The Deep Tech Party Livestream Welcomes Sets From Label Artists on 10/2
Redux Saints' mighty DTLA label (Deep Tech Los Angeles) returns for a fifth livestream from its headquarters in Downtown Los Angeles on Friday 2nd October. This time, the label boss welcomes artistic associates, Red Five and Notorious Lynch to join him in an extended three-hour stream. The Deep Tech Loft Parties have proved hugely successful in giving fans, old and new, an excuse to get up to get down in their living rooms. This latest edition promises more carefully curated underground tech house sounds from Redux Saints aka Jason Trevor Miller, as well as Notorious Lynch, who features on the latest Deep Tech Lockdown Sessions compilation, and Red Five, who first appeared on the tastemaking Deep Tech Miami sampler earlier this year. Next to the cutting-edge soundtrack, the stream will feature its now infamous VIP area starring some 'special guests', as well as further satirical interludes that exhibit the irreverent sense of humour of the DTLA crew. It all kicks off from 9pm – midnight PT (midnight NYC / 5am London / 6am Cape Town). Join the DTLA party online via YouTube or Twitch.
The Deep Tech Loft Party has made Friday nights feel like the party nights of old, but from the safety and comfort of home. They have proven so popular that Hollywood A-lister Charlie Sheen got involved, and now this month, DirtyBird label boss Claude von Stroke can't wait for it to start!
Previous editions have seen label don, Redux Saints drop the style of tunes that has seen him bag nine consecutive Beatport top 100 chart hits, and exclusive tracks from DTLA which has recently entered Beatport's top 100 list of the best tech house labels around. The volume is always pumped loud on these streams as they come direct from DTLA Records HQ with its lofty ceilings and seriously thick concrete walls.
The Deep Tech Loft Party streams are about having fun as well as hearing world class sounds. Each episode includes a satirical infomercial that poke fun at an industry that often takes itself too seriously. An ointment to cure genre-bashing, 'Hater-Aid' found its way into a former livestream, while this month, the product is DJ PEE JUG – a mobile bit of apparatus for DJs to relieve themselves in the booth. In a scene that can be overly strait-laced, DTLA shows it isn't afraid to bring some personality to the proceedings.
Redux Saints has had a colossal year in spite of the pandemic. His high quality and high rate of releases on labels like LOW CEILING, Stealth, CR2, Toolroom and DTLA, have turned the heads of Gorgon City, DJ Chus and Codes, Mark Knight, David Guetta, Chris Lake and Joseph Capriati, and saw Beatport make him an honorary 'On Our Radar' artist. As ever, expect a chunky tech house set with blistering grooves when Redux Saints hits the decks.
Joining him is San Diego-based, Irish-born Notorious Lynch, whose latest track 'Groover' on DTLA is sitting pretty in the Beatport Hype 100.  His eclectic sounds are informed by his worldly travels and releases on the likes of Rhythm Culture Records, Beachside Records and of course, DTLA, to which he'll bring to the livestream party.
Starring alongside is one to watch talent, Red Five. Her 'Bring the Fader Up' co-produced with friend Christian Kestar was one of the highlights of the Deep Tech Miami compilation and has brought a fresh new perspective to the label. As such, expect all manner of house, techno and disco gems from her when she joins the stream.