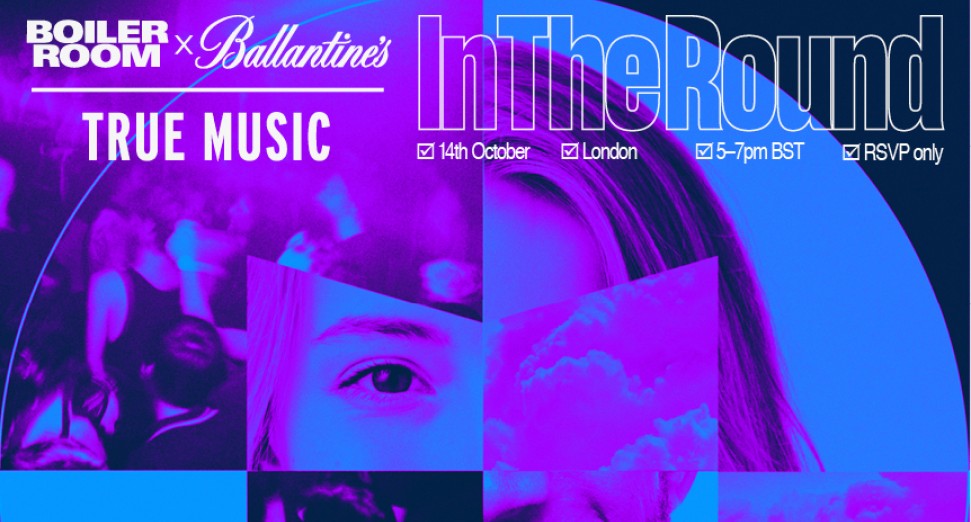 Boiler Room x Ballantine's True Music announce In The Round series
Boiler Room & Ballantine's True Music project is back in an evolved format set to reflect the new normal. In The Round is a series of socially distanced live broadcast events due to take place in UK, South Africa, Brazil and Spain.
Banku music superstar Mr Eazi and up-and-coming soulful RnB singer Zilo will perform at the global launch in London on 14th October, with more artists for the series to be announced shortly. The shows mark the first time most artists have had the chance to perform in front of an audience since the pandemic struck.
In The Round is a twist on Boiler Room's signature event format, where the artist is surrounded, on all sides, by the crowd. This format will be recreated in accordance with local health and safety measures to ensure the the live audience is socially distanced amid the iconic 360 degree layout.
Boiler Room Founder, Blaise Bellville, while acknowledging the hard times the industry is currently experiencing, is positive about this first phase in True Music's physical return. In The Round is "paving the way for a new way of doing socially-distanced, live-broadcasted music events [to see] how we can showcase and support artists in the new normal," he shared.
Although event capacities will be strictly limited, audiences worldwide will have the chance to be part of the experience, via an exclusive Zoom event, giving 1,000 of the artist's fans up-close, early access to the performances before they are broadcast to the world.
Each broadcast will be followed by the release of a short film showcasing the headline artist's experiences through this period, leading up to the In The Round performance.
Ballantine's Head of Music Tom Elton commented: "We've always been committed to championing local communities and music culture through our long-term partnership with Boiler Room, and now more than ever are striving to find ways to use music to bring people together again, both on and offline. We're excited to embrace the 'new normal' as True Music evolves, continuing to give a platform to the headliners of tomorrow, as well supporting the wider music and events ecosystem that we're lucky to be a part of."
To sign up for exclusive early access to the performances via Zoom, and to find out more about Boiler Room x Ballantine's True Music, check out truemusic.boilerroom.tv