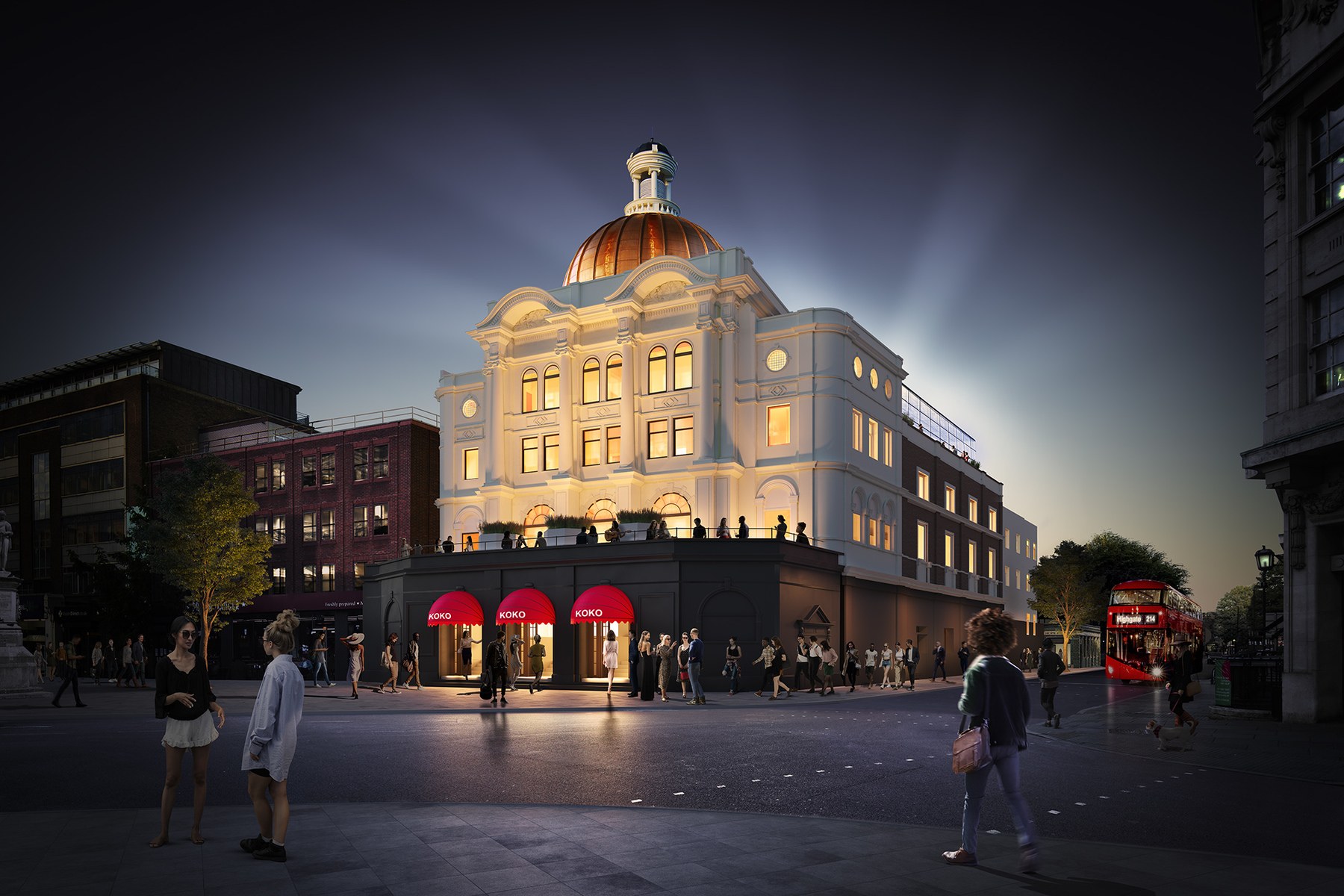 Camden venue Koko to reopen in spring 2022
The north London venue will reopen next year following a major redevelopment – a project that was disrupted by the pandemic, flooding and a fire.
London music venue Koko has announced its reopening following a £70 million three-year redevelopment. The much-loved venue will return in spring 2022 as a 50,000 square feet multi-use venue with aims to create "an unrivalled experience in live music and entertainment".
As part of its reopening, Koko has expanded both its operations and the venue itself, with the redevelopment project incorporating three historic buildings – the original Grade II listed Victorian theatre, as well as two adjacent buildings: a former piano factory and the Hope and Anchor pub. The expanded venue will offer multiple performance spaces, a new roof terrace, vinyl rooms and more, with built-in live streaming facilities for performances and broadcasts also integrated throughout.
The venue, which has been closed since 2019, has been restored with English Heritage following a rooftop fire and flooding – both of which occurred during the pandemic. The fire, which took place in January 2020, burnt much of the venue's iconic copper dome. This has since been restored too, with a new cocktail bar situated within it.
Elsewhere, Koko's ground floor will house four new venues which will be open to the public. These range from a late-night pizzeria and tap bar to the original Koko theatre, a shop, and an immersive performance space known as The Fly Tower, which is housed within the main theatre. Additionally, Koko will be offering a new membership scheme which will allow fans to gain access to facilities on upper floors, including the penthouse and recording studio, piano room, library and the hidden speakeasy.
Koko is working with London and LA-based content company Sister on its relaunch, which also includes a radio station as well as a new foundation with aims to support new artists and environmental initiatives.
Speaking on its reopening, Koko founder and CEO Olly Bengough said: "After three long and epic years of construction and restoration, I'm excited to announce that we will be returning Koko to the musicians, artists and fans next spring with a beautifully restored theatre and live music offering that will hopefully be a truly unique and unparalleled experience for everyone coming through the doors."
"We are as committed as ever to protect our 120 year cultural legacy and to support the next generation of musicians and London's dynamic and ever growing music scene. We look forward to welcoming everyone back to Koko in spring 2022."
Head to Koko's website for more information.