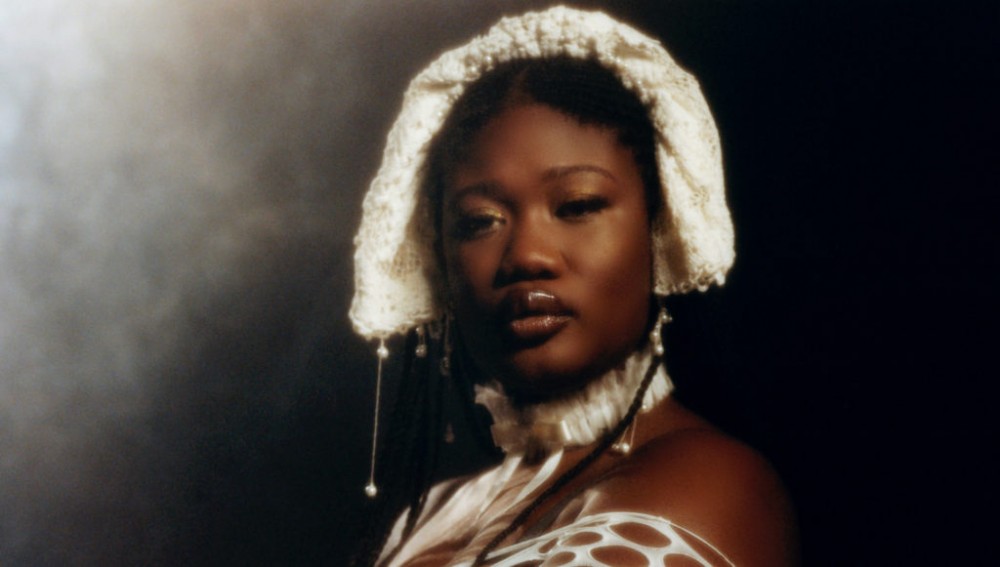 Fact Mix 830: Crystallmess
Crystallmess barrels through breakneck jungle, footwork bootlegs and fiendish edits at "godspeed" in her killer Fact mix.
"If God exists, what's his/her/their speed? What is godspeed?" asks multidisciplinary artist Christelle Oyiri for her ferocious contribution to Fact's mix series under her beloved
Crystallmess moniker. "In my opinion it's somewhere around 85 BPM, so I dived into my jungle favorites, some edits I freshly created for the mix, expect unreleased gems by parisian producers GREG and Bambounou as well. I guess this mix feels like stomping the ground, and snatching respect insolently, instead of asking for it!" Fittingly, Oyiri opens the mix with an excerpt from her latest performance work, Rest In Peace Aporia, a collaboration with Gaëlle Antsoni-Koumou that premiered at the Centre Pompidou in Paris. "Respect is not given, it is to be earned," she intones over descending seismic bass tones, pelting us head first into a lethal blend of DJ Rashad's 'Teknitian' and Sheck Wes's 'Gmail', setting the whiplash-inducing pace for the next hour.
This effortless, high-velocity movement between her art and music practice has been a signature of Oyiri's work over the last few years. She has oscillated between performance art works exploring forgotten mythology, DIY culture and technology, production and sound design that combines the complexity of her Afrofuturist influences with the libidinal charge of contemporary Parisian rave culture and the forging of a radically eclectic approach to DJing that is in a constant dialogue with the inherently diasporic nature of techno and club music more generally. Between her debut EP Mere Noises, her deadly split with Toxe for PAN and her appearance on this year's essential Nadsat compilation alongside fellow hard rave enthusiasts aamourocean, Von Bikräv and Paul Seul, the artist has created a number of performance and sound works (Collective Amnesia: In Memory of Logobi, 2018, Necessary Evil, 2019 and DEDICATED.PURE.SONIC.CURE, in collaboration with Lafawndah) most recently during a residency at the 11th edition of Wysing Polyphonic Festival, all whilst hosting Unleashed, her unmissable monthly NTS show.
Her Fact mix is a hard and fast snapshot of this creative dexterity, swerving between breakneck jungle and D&B from OSSX, John B and Dom & Roland, footwork bootlegs from Frequency and DJ Frankie N Elmoe as well as some absolutely fiendish edits, including a galaxy brain blend of Black Rob and DJ Die and the blissful marriage of Jay Mitta's warp speed singeli with Caterina Barbieri's elegant synth variations – truly godspeed, if ever we've heard it.
For more information about Christelle Oyiri and her work, or about her music as Crystallmess, you can visit her website and follow her on Instagram. Crystallmess will release a mixtape on YOUTH at the end of this year.
Tracklist:
Crystallmess – '
Simulacra Acapella' (Excerpt from Rest In Peace Aporia)
DJ Rashad – '
Teknitian' (Crystallmess Inbox Edit)
Etch – '
No Paradise'
Lil Wayne – 'A Milli' (Frequency Bootleg)
OSSX – '
HARD 2 LOVE'
DJ Frankie N Elmoe – '
Isley Bros Collab'
John B – 'Ole'
Black Rob x DJ Die – '
Woah' (Crystallmess Edit)
Vicarious Bliss – 'Theme From Vicarious Bliss' (Justice Remix) Loop
Jay Mitta – '
Don Bet'
Caterina Barbieri – '
Pinnacles Of You'
Josi Devil – '
Devil's Dance'
Crystallmess – '
The Devil Is A Lie'
Dom & Roland – '
Trauma'
DJ SS – '
The Lighter'
Greg – Unreleased
Nkisi – '
Terror 2′
El Alfa "El Jefe" – 'Uzi' (Siu Mata Edit)
Objekt – 'Ganzfeld'
Maddox – '
Party People'
Bambounou – Unreleased