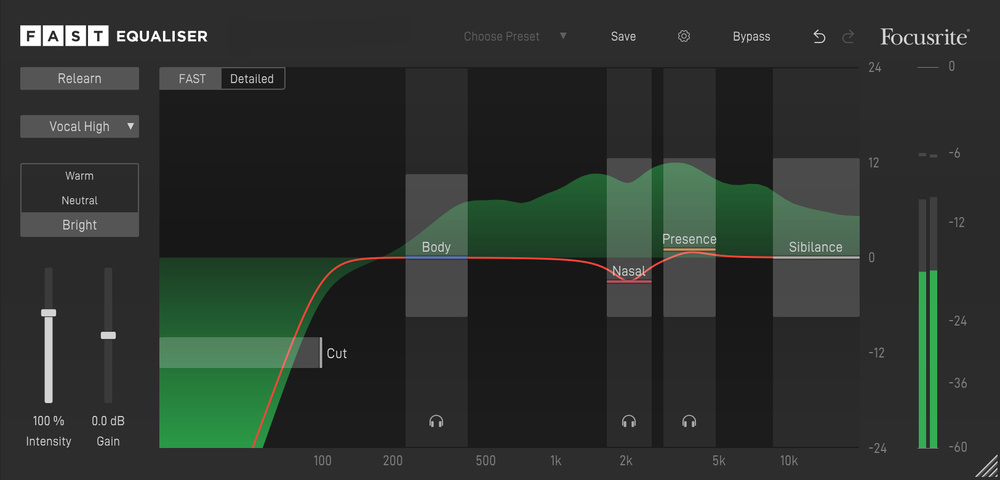 Focusrite launches new AI mixing plugins
Focusrite has launched a new series of mixing plugs based around AI. The new FAST range features three plugins – an EQ, compressor and Reveal, that lets users perform a frequency-specific sidechain in order to clear the mix for key parts like vocals or snares. The plugins are part of a new range called The Collective, which will continue to grow with music-making tools. 
The FAST EQ lets you select the instrument used, such as acoustic guitar, then uses AI to 'listen' to the signal and creates an EQ curve to match the source. The EQ will also split the frequency bands into labelled terms like 'body', 'nasal' and 'sibilance' on vocals, for example, making it easier for new producers to identify parts of the sound they might want to manipulate. There's a 'Detailed' mode that lets you switch to more traditional bands and EQing, and you can select the intensity by which you want the plugin to affect the sound. You can also 'relearn' the curve by listening again to another section of the track. 
FAST Compressor is similar in that it 'listens' to a source and then provides suggestions on compressor settings, removing the attack and release settings in FAST mode, but giving users a clear visual read on what's happening, including the ability to increase or decrease the compression applied. Flavour buttons can change the tone of compression to soft, neutral or hard. Again, a Detailed view lets you dive in and make more advanced tweaks, re-introducing attack, release, ratio and knee and a new blue visual representation of how your audio is being shaped. 
FAST Reveal is a more unique plug, calling itself 'AI-powered ducking'. It 'listens' to the audio and picks out frequency spectrums that are most prominent, allowing users to increase or decrease the volume when that element is present, to avoid frequency clashes. For example, you could use it to duck the overlapping frequencies in a piano and vocal, without ducking the whole sound as a traditional sidechain would. 
The FAST range is available on subscription, priced at £5.99 per month. Once you've paid for 15 months, the plugins are then yours to own. Find out more here.