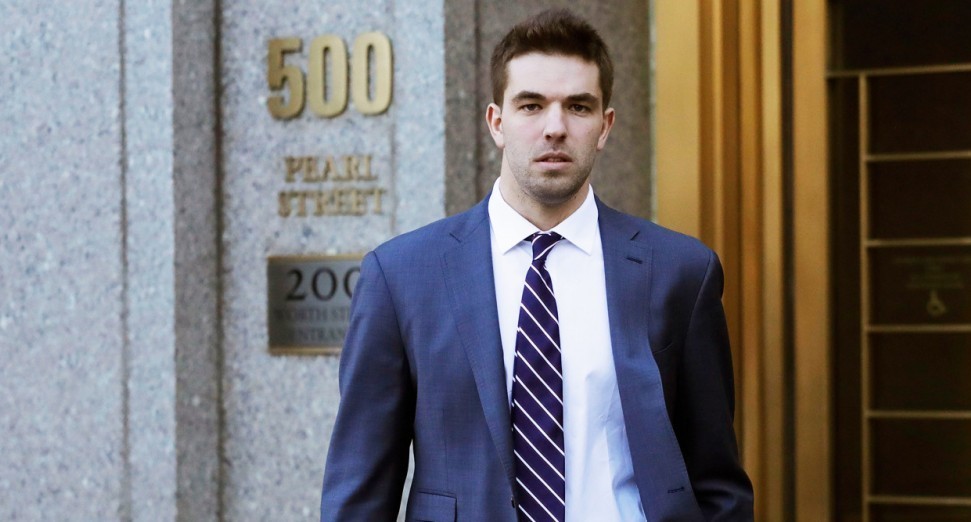 Fyre Festival's Billy McFarland placed in solitary confinement following podcast launch
Fyre Festival's Billy McFarland has reportedly been placed in solitary confinement following a new podcast launch.
Failed festival founder Billy McFarland, who is currently serving a six year sentence at FCI Elkton in Lisbon, Ohio, for wire fraud related to the calamitous festival that never was, has been placed in solitary confinement following the launch of a new podcast titled 'Dumpster Fyre', The New York Times reports.
The podcast, which aired a full, first episode on Wednesday the 21st October, features host Jordan Harbinger speaking with a "remorseful and seemingly humbled" McFarland from jail via telephone, about the mistakes which led to the disastrous 2017 event. 
Now, McFarland's lawyer has revealed that the 28-year-old is in solitary confinement pending an "unspecificed investigation by the federal Bureau of Prisons". In a statement, he suggested that McFarland was in confinement 23 hours-a-day for his involvement in the podcast.
"We believe the investigation stems from his participation in the podcast and the photographs that were taken and utilized in the trailer, which were all properly taken," his lawyer, Jason Russo, said in the statement. "We don't believe he's violated any rule or regulation, and there can't possibly be anything else. He's been a model prisoner there."
The New York Times contacted a spokesman for the Bureau of Prisons in Washington, who declined to comment and said "that the agency never discusses the housing arrangements of inmates for privacy reasons." 
While Billy McFarland remains in federal prison, in July last year, Judge Kevin Castle ruled that festival co-founder Ja Rule, and Fyre's head of marketing Grant Margolin, would not be liable for the festival falling apart.
In April, it was reported that McFarland had asked for early release from prison due to coronavirus concerns.