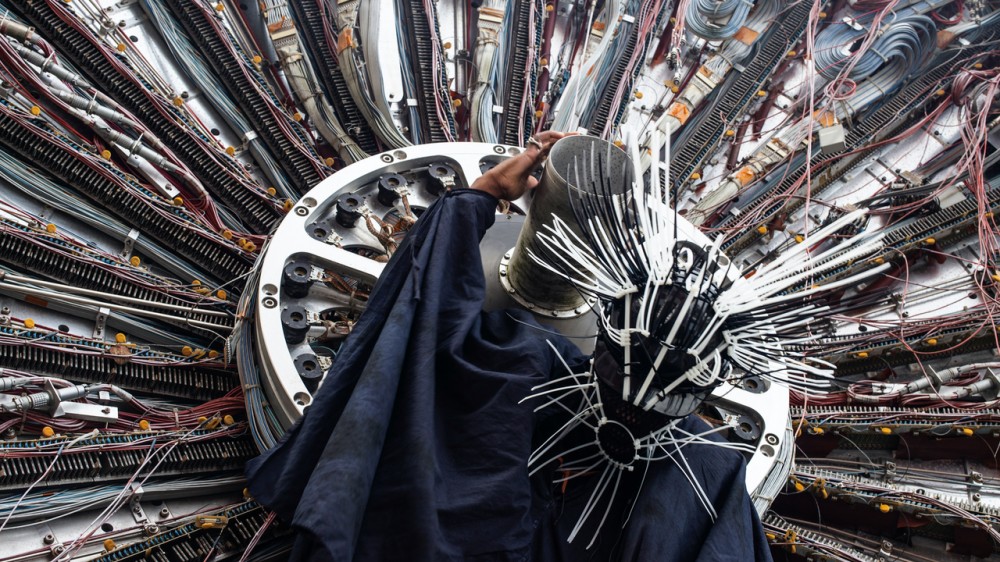 Haroon Mirza, Jack Jelfs and GAIKA conduct a shamanic ritual in The Wave Epoch
An audiovisual accompaniment to the concept album of the same name, set in a distant future in which the forgotten remains of the Large Hadron Collider at CERN have been rediscovered.
Back in 2018 artists Haroon Mirza and Jack Jelfs took part in a residency at CERN, the largest particle physics lab in the world and the home of the Large Hadron Collider. It was during their engagement with the ideas and technology involved in some of the most important scientific discoveries of contemporary times that they began to dream of the future, speculating on what civilizations thousands of years from now would make of the gigantic circular structure.
The Wave Epoch, a concept album, film and multimedia performance that has been presented at the Brighton Festival, Lisson Gallery in London and Ministry of Sound, is set in this distant future and imagines the kinds of rituals, practices and questions that would arise upon the machine's rediscovery. Enlisting the talents of GAIKA, Mirza and Jelfs incorporate music, poetry, incantation, archive material and original video footage into the piece, as well as DIY electronic instruments constructed from discarded scientific equipment gifted to the artists by CERN.
Arriving via OUTPUTS, a new experimental publishing imprint operated by hrm199, the studio of Mirza and Gaia Fugazza, and musician, synthesist and artist Nik Void, The Wave Epoch exists as a film and an album that is available digitally, as well as in the form of a limited edition physical version, which takes the form of a playable artwork made from machined card and foil by Haroon Mirza, housed in a 12″ record sleeve.
The Wave Epoch is out now, on OUTPUTS. For more information about the label, you can visit the Bandcamp and follow the label on Instagram.
The Wave Epoch Credits:
Protagonists – Jessica Barter, GAIKA
Cameo – Jack Jelfs, Gaia Fugazza, Cheolwon Chang, Haroon Mirza
CERN Physicists – Sophia Borowka, Gain Francesco Giudice, Peter Jenni, Rolf Landua, Brenda Penante
God – Higgs Boson, Google
Spirit – N, N-Dimethyltryptamine
Director of Photography – David Bebber
Camera -Gaia Fugazza, Haroon Mirza
Costume Designers – Jessica Au, Haroon Mirza
Electronics – Ben Barwise, Tom Mclean
Production Management – Matilde Cerruti-Quara, Stephanie Jong
Director & Editor – Haroon Mirza
Original Soundtrack – Jack Jelfs and Haroon Mirza
Watch next: Haroon Mirza explores physics, consciousness and European identity in '//////// ////////'