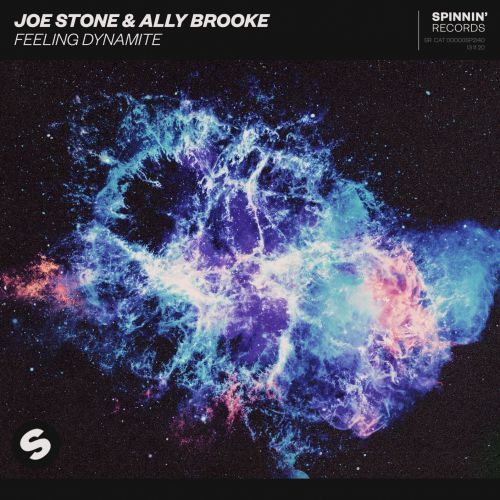 Joe Stone & Ally Brooke – Feeling Dynamite
Known as one of the most creative sources of Dutch dance music, DJ/producer Joe Stone has teamed up for a brand new milestone, together with US multi-platinum pop singer Ally Brooke. 'Feeling Dynamite' is all you'd expect from these two powerhouses, providing a pop-infused dance gem while also touching on exciting new sounds, thanks to Stone's immaculate production skills.
Leave it to Joe Stone to turn an already exciting tune into something spectacular. He's done it before, from his debut single 'The Party (This Is How We Do It)' (featuring none other than Montell Jordan) to recent hits like 'Nothing Else (When I Think Of You)' and 'Superstar' (featuring Four Of Diamonds). For the last five years, he's delivered a string of instant classics, often combining a club focused 90's house vibe with contemporary sounds and timeless vocal lines.
With 'Feeling Dynamite' though, he's taking things further. The Dutch artist has pushed himself to another level of production, this time focusing on a more 21st century sound – high on energy, sweet on the ears. Opposed to his 90's styled grooves in the past, this record brings a more raw beat, spacious synth chords, and sensual sound effects, building towards an upbeat chorus that seems to be made for Ally Brooke's invigorating vocals.
Because she's on fire here. Known for her work with multi-platinum pop group Fifth Harmony, she's been responsible for some impressive solo efforts these last years. Hits include the R&B styled 'Low Key' (featuring Tyga) and 'Lips Don't Lie' (featuring A Boogie Wit Da Hoodie) as well as this year's team-up with Afrojack in the shape of dance blast 'All Night'.
'Feeling Dynamite' sees her bring a similar burst of energy, celebrating the good things in life with her strong, joyous vocals. Joe Stone's ever feelgood rhythms perfectly align here with Brooke's ecstatic delivery, packed in a contagious melody that's begging to be played on repeat. For sure, this tune will light up the airwaves, playlists, and private parties, as it's a sun drenched pop tune made to unite the audience in a big smile.
"Really excited to be able to work with Ally Brooke on this one! So happy at how 'Feeling Dynamite' turned out and can't wait to show it to the world." – Joe Stone
"I am so excited to be doing another release with Spinnin' Records and to collab with Joe Stone. This song makes me want to dance and I know my fans and the world will love it and will dance and sing with us!" – Ally Brooke