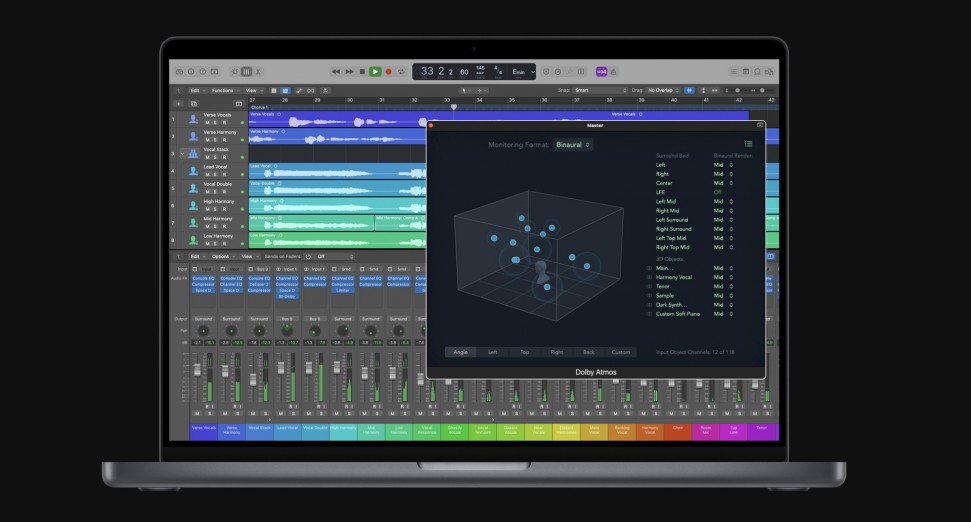 Logic Pro X 10.7 adds Spatial Audio mixing and plugins
Apple has added Spatial Audio mixing to Logic Pro X in a new update. The new feature lets users take advantage of the new tech that Apple has invested heavily in over the past few years, adding it to their AirPod Pro and Max headphones, as well as Apple Music, Apple TV and now MacBook Pros. Other services like Disney Plus also support the feature.
It allows users to experience surround-like sound without multiple speakers and can create an immersive 3D soundscape in headphones and now, using just two speakers.
The update – Logic Pro 10.7 – adds a new 3D Object Panner to the Logic plug collection, as well as new multi-channel metering and panning. In total there are 13 new plugins, including a Dolby Atmos render plugin to visualise each element of the mix in a binaural 3D space.
When you're ready to bounce your project, you can export it to a new ADM BWF file, which can then be decoded by Apple Music into Spatial Audio.
The update is free for existing users and Logic remains at £179 on the App Store for new users. There's also a 90-day free trial for anyone who's keen to experiment.