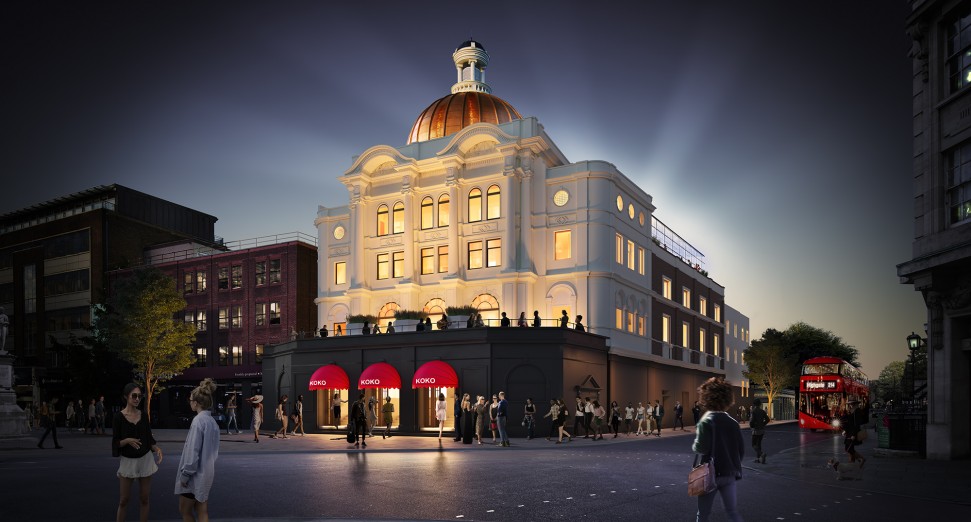 London's KOKO venue will reopen in 2022
London venue KOKO will reopen in spring 2022 following a huge £70million restoration and redevelopment project.
The iconic theatre — which has hosted everyone from Charlie Chaplin to Prince, Madonna, Amy Winehouse, and Dua Lipa — caught fire in January last year, with 30% of the roof devastated by the blaze and significant internal damage. At the time the address had already been closed for refurbishment.
Since first shuttering for improvement works in 2019, the address has also endured major water damage, not to mention a global pandemic that threw the entire live music industry into disarray. But sights are now firmly focused on the future of a building, which has stood since the turn of the 20th Century, with the promise of a transformation into a world-class contemporary performance space spanning 50,000 square feet, with high spec streaming capabilities throughout.
A four-storey extension has been added to the original Grade II listed structure, meaning the complex now includes three historic landmarks — the original, 100-year-old theatre, an old piano factory dating to 1800 and the former Hope & Anchor, a favourite drinking haunt of English literary icon Charles Dickens. Once inside, highlights will include a late-night pizzeria and tap bar which will host intimate performances. Meanwhile, a roof terrace, vinyl and piano rooms, library, and "hidden speakeasy" are among the offerings for those signing up for a new membership scheme.
The facilities within mean artists can perform, co-produce, stream, and distribute their work to a worldwide audience. The venture has been launched and is supported by SISTER, a multi-award winning production house responsible for the likes of 'Chernobyl', which also has a stake in Olivia Colman and Ed Sinclair's South of the River Pictures, and podcast studio Campside Media.
Showing its dedication to emerging talent, KOKO has also confirmed the launch of its own radio station, alongside a new Foundation. The latter — a registered charity — aims to platform and offer support to new artists, while working to protect the environment. Early projects will centre on the surrounding community of Camden, a London borough with a strong history for arts, culture, music, and entertainment.
"After three long and epic years of construction and restoration, I'm excited to announce that we will be returning KOKO to the musicians, artists and fans next spring with a beautifully restored theatre and live music offering that will hopefully be a truly unique and unparalleled experience for everyone coming through the doors," said KOKO Creative Director Olly Bengough.
"It's never been more important to support the next generation of artists and storytellers to collaborate, innovate and share their work. Although we've all been eager for the return of live music we've also been discovering new ways to engage with the artists we love through their creative endeavours in the digital space, keeping us united as a global community," added Elisabeth Murdoch, Co-Founder and Executive Chairman of SISTER.