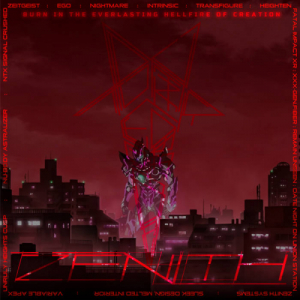 Night Terrors – Zenith
Night Terrors' description on Discogs simply states "Band from Seattle, Washington". Although that statement is factual, it doesn't necessarily pique one's interest all that much, nor does it reveal the story of this rising force of arcane hammering electro-industrial noise terrorians. Perhaps the story is not all that important anyway. The artists seem to keep a low profile and let the music speak on their behalf. We do know the band has been active since at least 2016 releasing extremely limited quantities in the form of CDr and cassette. Their music incorporates several genres and a myriad of influences ripped right out of the book of life. The recondite nature of their themes seems to add another layer to the mystique of Night Terrors. After two pummeling albums and several EPs, Night Terrors returns to make their biggest splash to date. Zenith is an astonishing statement forged by  years shaping, sculpting and experimenting to find that perfect amalgamation of foundational elements, revelry, current mindsets and legacy. 


Zenith seems to be the ideal title for Night Terrors' latest release. It is the destination of their most powerful achievement to date. It is the route of natural progression that brought them here, not a route of forced progression to satisfy some ancillary need. There is a harnessed chaos that is contained within the sonic fabrics of Night Terrors' musical manifestations. From the earlier works that dwelled somewhere in the lineage of early Mentallo And The Fixer with that old school darkened vibe of early 90's electro-industrial to the place they are now which radiates with an aggressive robust cyberpunk feel.
The opening track "Fatal Impact XR [Zenith Systems]" pulls some classic influence from Japanese EBM legends DRP There is a hint of "Go Into Ecstasy" emerging around the one minute mark amplified by the sheer force and power of the Night Terrors' approach. The hammering beats of "XXX -Gen.Fiber [Duty Optimized]" sound like giant helicopter's pulsating engine circling low over head. "Remain Unseen [Access Flash]" is just as relentless and furious. The fast paced beat is like a tactical approach to suppression-firing. The rapid pounding barrage of sound never stops until the  mayhem is contained at the end of the track. "Date Night On Union Station [Starlight Angel, Sleepless Night]" was originally released as a single late 2020. It was the first new track I heard in a while acting as possible window into the soul of the next release. There is a certain heaviness that is surrounded by shifts in design and tempo. Rather than remaining in an all out attack mode for the duration, there is a detour in sound. It lingers for a while in a holding pattern where tranquility and cacophony find common ground for a moment. The instrumentation reflects diverse influences and ideas coming together for the greater good of the whole. 
 "Unruley Height's Cusp [Sleek Design, Melted Interior]" draws out more of that experimental sound to a slower pace with airy synth work layered into the background that sounds like a factory with every piece of machinery on and operational. The pace picks up again armed with the throbbing bass power of "Nu-Body Astralizer [Variable Apex]". Rapid-fire beats smash and pound in the forefront while the secondary layers guide the track into and out of moments of serene feelings as if your life's work all came together and the revelation was awe-inspiring. The final track on Zenith is "NTX Signal Crushed [Go Go Go]". The direction yields some different instrumentation unlike anything else on the album. It is probably the most diverse track. It contains the characteristics that make Night Terrors who they are and at the same time defines the ability to expand their horizons without fear. 
Throughout the album the erudite and esoteric approach to the themes seems to be purposeful and leaves the listener to their own devices when it comes to interpreting what song is about. The artists do mention some themes that revolve around war, dreams, existential feelings and generational anxieties. There is a lot going on in each and every track. At times it can feel like a hostile environment and at other times a completely different feeling manifests itself. It is an escape, it is a sanctuary, it is a battleground and it is the unforeseen. It is a convergence of life's offerings packaged into seven pieces to do as you wish. 
 Some of the influences are more obvious than others. The obligatory Front Line Assembly is certainly there, however the previously mentioned DRP and even some 2nd Communication circa 1989-1990 shows a deeper connection to more than just the main luminaries. Also influencing the sound  and aiding in mixing and co-production is Vancouver/Japan-based experimental artist Thegn and mastering by Fire-Toolz at Angel Hair Audio. 
Night Terrors captured my attention right from the beginning and I have followed their work since. The evolution in sound is refreshing. It can be predictable yet unpredictable. Early on their style could be described as a raw visceral approach to sound design. Today, it's more like skyscraper collapsing down on top of you.
 As a collector it can be frustrating when you discover an artist only to find their back catalog is long since gone, at least physically. Some of the earlier Night Terrors releases were limited to 8-10 copies and others 50. Good luck finding those. Whatever you can find, buy!!! You will regret it if you don't. I know the physical copies will be out soon. When they arrive, I look forward to the packaging and the contents. Like all Night Terrors releases, you will need to be swift to secure your physical copy. Don't sleep on this.