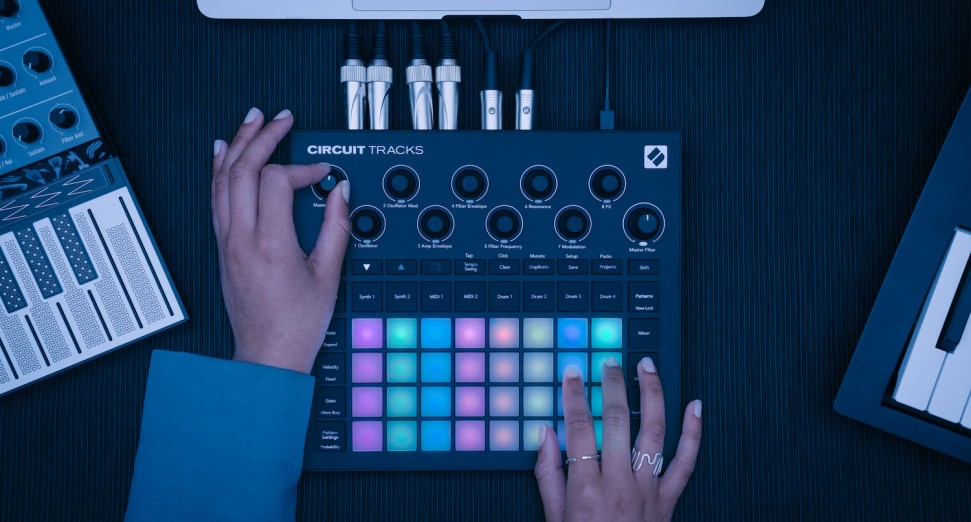 Novation releases new all-in-one groovebox Circuit Tracks
Novation has announced a new all-in-one groovebox called Circuit Tracks. The new hardware features six tracks, including four drum tracks and two poly synth tracks, it's designed to quickly get your ideas down, with built-in FX and a rechargeable battery. There are 32 velocity-sensitive pads for programming synths and drums, and synth parts are powered by the Nova engine, while there are ten knobs up top for tweaking and shaping synth sounds and FX.
There are also two new MIDI tracks that weren't on the original Circuit, using the MIDI DIN ports round back. Drum sounds are provided by samples using the built-in microSD card slot, which can also store projects, patches and presets from Novation's Component software. Round back there's stereo quarter-inch outs and inputs, as well as MIDI DIN and analogue sync out. The battery option means you can quickly pick up the Tracks and start making music without worrying about power cables.
The unit powers and communicates with computers over USB-C. Best of all, it's only £359 and is available now.
All-in-one units are growing in popularity, with Native Instruments' Maschine+ and Roland's VERSELAB both recently announced.