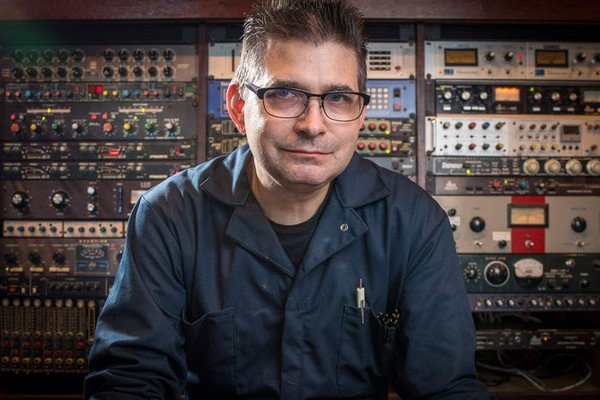 Last month, the former Nirvana producer reflected on past actions in a Twitter thread. In a new interview, he delves deeper into the subject.
Back in October, US musician and producer Steve Albini took to social media to reflect on his role in promoting toxic "edgelord" culture.
In the lengthy Twitter thread, Albini – who's known for his work with the likes of Nirvana, Pixies and PJ Harvey, plus his own music projects, which include bands such as Rapeman – addressed past actions, statements and behaviours, telling followers he's "overdue for a conversation about my role in inspiring 'edgelord' shit". And in a new interview with MEL Magazine, published on Monday (8 November), Albini did indeed discuss the subject in greater detail.
On the naming of his band Rapeman, which took inspiration from pornographic Japanese manga comics, Albini said: "I admit that I was deaf to a lot of women's issues at the time, and that's on me. Within our circles, within the music scene, within the musical underground, a lot of cultural problems were deemed already solved — meaning, you didn't care if your friends were queer. Of course women had an equal place, an equal role to play in our circles. The music scene was broadly inclusive. So for us, we felt like those problems had been solved. And that was an ignorant perception".
Albini also addressed the transgressive culture surrounding his early music projects, stating: "In our circles, nothing was off limits". He added: "It took a while for me to appreciate that using abusive language in a joking fashion was still using abusive language. And it was genuinely shocking when I realised that there were people in the music underground who weren't playing when they were using language like that and who weren't kindred spirits. They were, in fact, awful, and only masquerading as intellectuals. That was one of many wake-up moments". [sic]
Later in the interview, Albini discussed his usage of a racial slur in a post on the Odd Future message board, in which he berated the group after sharing an airport shuttle with them in 2011. "I'll be honest," said Albini. "That [shuttle experience] was a single and extreme scenario where young kids who were really full of themselves were behaving like assholes. My articulation of that whole experience was inexpertly rendered. That's probably the best way that I can put it. I wrote my account of the afternoon up quickly, without much consideration, and I can appreciate how somebody who's unfamiliar with me, with Odd Future and with the ideas being brought out in the subtext would be responding to seeing that word in print. And I appreciate that. That was incorrect."
He added: "It was basically me not appreciating the distinction between the casual usage and the hard R usage. And that's my fault. That's just cultural ignorance on my part. They were behaving atrociously, and I was simply describing their behaviour and language, but I did it in a way that portrayed my own cultural ignorance". [sic]
Read the full interview here, and revisit Albini's initial thread.