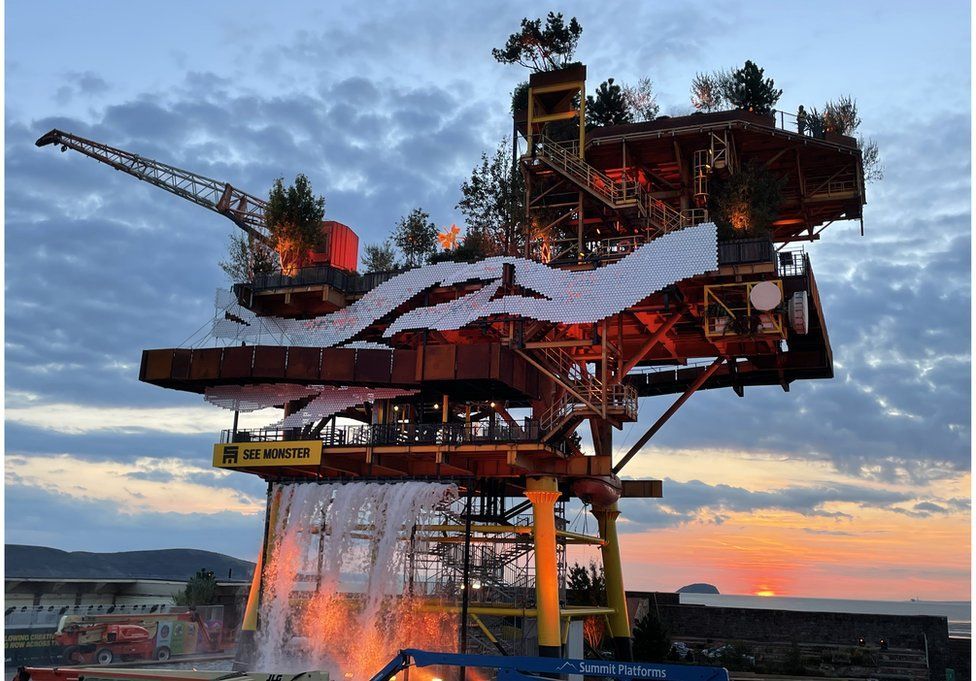 Weston-super-Mare hosts SEE MONSTER art installation
SEE MONSTER is a decomissioned North Sea offshore rig transformed into one of the UK's largest public art installations.
Open to visitors until November on the seafront in Weston-super-Mare, the 35 metre-high SEE MONSTER has four publicly accessible levels and features a 10-metre waterfall, kinetic wind sculptures, a seated amphitheatre and a multi-level slide through the structure. The art installation is free to visit and also includes a wild garden with plants selected to thrive in the seaside microclimate as well as artist-designed renewables energies.
SEE MONSTER aims to inspire conversations about reuse, renewables and the great British weather. It's part of UNBOXED: Creativity in the UK, which is a creative programme featuring 10 multi-site projects over the course of 2022. The creation of the Weston-super-Mare art installation was led by Leeds-based studio NEWSUBSTANCE.
Speaking on the project, Patrick O'Mahony – Creative Director and Founder of NEWSUBSTANCE – said: "SEE MONSTER is an incredibly unique project, made possible through cross-sector collaboration and the ambitious nature of the UNBOXED commission. We are incredibly excited to be the first people in the world to reuse a structure in this way, with its potential to provide a blueprint for future global reuse projects."
"From the roar of the waterfall to the shimmering scales, we invite our audience to ascend the monster, running through clouds and exploring wild gardens until they reach the summit where they can see our monster's home from a new perspective. We hope this once-in-a-lifetime experience, that started as an experiment in education and creativity in Weston-super-Mare, will go on to have a much greater and long-lasting legacy."
Follow @seemonsteruk on social media to find out all the latest news and events.