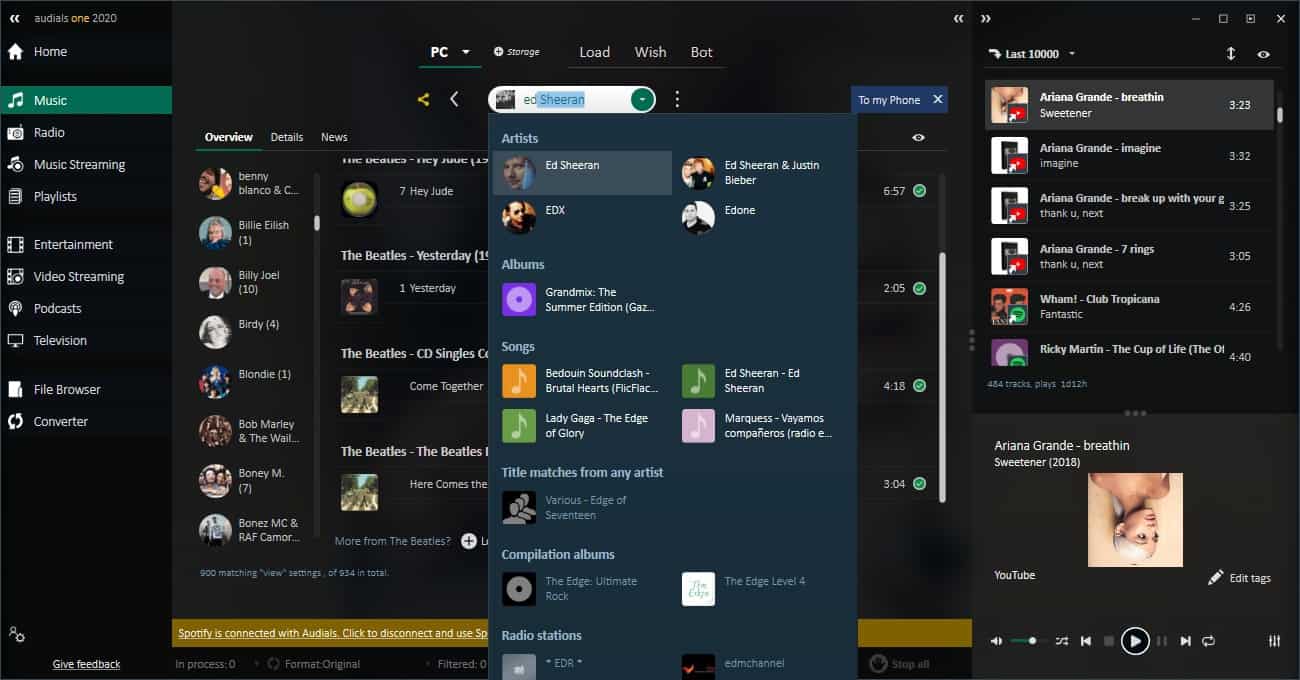 An in Depth Look at Audials One and Our Amazing Experience
Here at EDMsauce.com we love music. Because of that we want to show you the best ways to get all of the music you want on the go, with the best quality, and of course, legally. We got an EXCLUSIVE trial of using the streaming audio management service, Audials One, and we're really excited to share it with you!
What, When, Why, How?
Audials One supports all major music streaming services including Spotify, Deezer, Napster, Tidal, YouTube, Dailymotion, Vimeo, Veoh, Soundcloud, and many others. It allows you to download and save individual soundtracks with labels. Its advanced system detects the songs automatically and finds the exact start and end of the track which prevents the post-processing of songs.
This whole process is super-fast as only the audio track is loaded. You can also process a different number of music tracks parallel. Finished tracks are shown so you can download them once they are ready. It automatically detects the best version with top quality but you can view alternate versions as well.
What Can It Convert, Though?
No matter if you want to covert music or video. The super format Converter in Audials One will handle that for you. For audio formats, it can convert over 40 file formats. That pretty much include all audio format.
Also, the DRM protected audio like audiobook can be convert at high speed using the virtual audio CD driver.
Export audio formats: MP3, WMA, WMA Pro, OGG, FLAC, WAV, M4A, AAC, AIFF, AU and CAF
Export video formats: WMV, MP4, MPEG4, AVI, 3GP, 3G2, FLV, MKV, MOV, H.264 and H.265
Records Radio? Check! Records Your Favorite Podcasts? DOUBLE CHECK!
This is my personal favorite feature. You can discover and explore the different radio channels and podcasts around the globe. This tool allows you to record and download those radios and podcasts with precision. You can create different favorites here, either the channel or the artist. You will be notified as well for that. Using the recommendations feature, you will be also viewed the similar channels and artists.
This is the world's largest database of 100,000 Internet radio stations. All of them are categorized into different forms. You can explore the niches as per your taste. Most amazing this is that it also supports navigation based channel selection. So, you can listen and record the podcasts country or region wise or even local channels as well.
But Can It Even Record Movies? YES! (and in AMAZING quality)
Audials One allows you to record and download videos from video streams, online movie stores, media centers, and video-sharing services. Video formats include WMV, MP4, MPEG4, AVI, 3GP, 3G2, FLV, MKV, MOV, H.264, and H.265. This software will automatically optimize files for the PC, Mac, Android Smartphone & Tablet, Apple iPhone & iPad, Xbox & PS4 game consoles, and many more.
You can record 720p-HD and Full-HD (1080p) with this software. Supported websites include HTML5, SilverLight, Adobe Flash, and even EME-standard download protection. Audials One Multimedia recording suite is highly optimized with the graphics card thus allows you to record the videos faster and in better quality. Supported browsers include Chrome, Firefox, Edge and Internet Explorer browsers (all in 32 and 64 bit).
It's 2020, EDMSAUCE, Can I use it on my Phone? Oh baby, there's an APP for that!
With Audials 2020, you can get exclusive pro app power features which are not part of the free version. You can search, listen, download music, and transfer it seamlessly to your iOS or Android device.
Wish-List Function: The wish-list function has finally reached Android smartphones. Also, you will have the same wish list on your mobile as you do on your PC.
Intelligent Wireless Music Transfer: You can easily transfer all your media automatically to your Android devices as long as your PC is running simultaneously.
Unlimited Radio Recording on iPhone: The radio app lets you to record as many tracks as you want from online radio stations
But Do I Need This? We Think So!
In simple words, Audials One 2020 is an industry leader when it comes to the multimedia recording of the streaming services. You can record music, videos, radios and TV channels. All of them with this single tool. For music recording, all major services are supported including Spotify, Apple Music, SoundCloud, Tidal, etc. You can download videos from YouTube, Netflix and other video streaming services.
Thousands of radio channels and podcasts are available. You can browse through them and download your favorite content. Not only that, you can favorite the channels as well as individual artists if they are appearing on multiple channels. TV channel network is also pretty much extensive which extends to multiple countries and also allows you to record and download on-demand content from the TV. Everything has the ability to run in the background.
Whats The Final Word?
Audials One 2020 provides you with valuable new and improved features for recording and enjoying music and saving movies, series, livestreams and other media. It is definitely worth checking out the features. A free demo version is offered by the company that can be downloaded on Audials.com