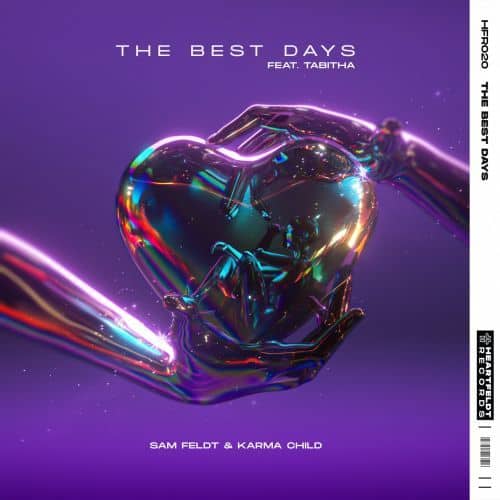 SAM FELDT shares his 'BEST DAYS' (ft. TABITHA)
Sam Feldt returns with 'Best Days', the second single on his brand new Home Sweet Home EP, of which the title track was released last week. For this follow-up the critically acclaimed DJ/producer teams up with fellow Dutch singer Tabitha, resulting in a tour de force of powerful pop hooks, Sam Feldt's ever feelgood production and a tender, hopeful message.
Sam Feldt isn't the artist to share his music without any deeper meaning. The release of his 3-track Home Sweet Home EP underlines this profoundness like nothing else, as the DJ/producer perfectly touches on the sentiments that have been going round this year. A pandemic that has influenced everyone around the world, lockdowns forcing many people to stay at home, instead of joining each other on a festival meadow – it's difficult times we live in, and we have to make something out of it.
Last week's release of 'Home Sweet Home' already supported this feeling, providing comfort with a sentimental love-letter to home. Teaming up with Alma and Digital Farm Animals, the record functioned as a wonderful kick-off of the EP, which now enters its second stage with 'Best Days'.
For this, Sam Feldt focuses even more on the positive sides of home life. Building a warm atmosphere with gentle guitar chords and Tabitha's soulful voice, the record flows into a sultry pre-chorus before unleashing an uplifting chorus, bursting out with horns, percussion and joyous background vocals.
It's a lively ode to life at home, not in the least thanks to the heart warming efforts of Tabitha, one of Holland's fastest rising artists at the moment. She breathes a ray of sunshine in this already upbeat production, giving the notion of 'light at the end of the tunnel' the invigorating sound it needs.
"Working on a song with the best streaming female Dutch artist right now is obviously a dream come true. Tabitha and myself worked on this song for over a year and I'm super excited to finally be showing it to the public. It's a song about finding the best days in the present moment, which might not always look glamorous on the outside. I think this is a message that will resonate with many of us right now, since a lot of people have found their silver lining to this COVID crisis. Friends reconnecting, families becoming closer, and falling in love with your own home and local area again are all things that we've gained from this lockdown – sometimes making boring days at home the Best Days after all." – Sam Feldt
"Now more than ever, it's important to appreciate those special people in our lives and the time we share together. It's been a rewarding experience working with such a great team of collaborators. Can't wait for this one to come out…" – Karma Child
"Despite this uncertain difficult time, I've experienced the best days of my life. I fell in love again with the little things in life and on top of that I'm expecting a little girl. It is therefore extra special for me to share this song with the rest of the world. I am very proud of the collaboration with Sam Feldt and I feel honoured to release this song together." – Tabitha